Having a huge walk in closet isn't a luxury we always get. But who said small walk in closets can't be just as good?
Organizing small walk in closets is all about how you utilize your space. That's it, really.
In this post, you will find 23 easy small walk-in closet organization ideas that will seriously transform your closet into a space you won't even recognize!
Whether you have a small reach-in closet, a small walk-in closet in an apartment, or just looking for some everyday organizational solutions, you will find just what you need in this post. 
Here are a few things we will be going over:
How to organize shelves in a small closet
Small closet storage solutions
Shoe storage ideas for small closets
How to maximize hanging space in a small closet
And more!
Are you ready? Let's get organizing!
This post may contain affiliate links. This means I will earn a commission if you purchase through my link, at no extra cost to you. Please read the full disclosure here.
Related: How to Painlessly Purge Your Closet (Without losing your mind!)
How to organize shelves in a small closet
I don't know about you, but I can never seem to keep the clothes on my closet shelves to keep from spilling over on top of each other. Then I get too lazy to push everything back in its place and it all becomes a disorganized mess haha.
You can use these shelf dividers on your closet shelves to keep all of the clothes on your closet shelves organized in their own section without toppling all over each other!
If you really want to make the most out of your closet shelf space, try adding these stackable shelf dividers!
They allow you to divide your vertical shelf space in half so that you can really maximize your space and clothing categories.
Cute storage bins are always my go to when it comes to organizing any area of my house! And the closet is no exception.
Storage bins are perfect for storing smaller items on your closet shelves to keep them nice and tidy and all in one place.
Small Walk-in Closet Storage Solutions
Cube organizers are great for small walk-in closets that are short on space. Add a cube organizer on your closet floor with some storage bins to store things such as, underwear, socks, basic tees, swimwear, accessories, etc.
Adding additional drawers to the closet is a simple and effective way to really maximize your storage space in a small closet.
If you don't have enough room for a full cube organizer in your closet, this option is perfect and can fit right in your closet corner without taking up too much space!
Shoe Storage Ideas for Small Closets
Over the door shoe storage is a tried and true shoe organizing method that works wonders for small closets!
Why? Because they don't take up any closet space AT ALL. This allows you to use your closet space for what really matters: all of your stylish clothes!
If you have some extra hanging space in your closet, try this hanging shoe storage organizer! This shoe organizer makes your shoes easy to reach for a quick grab and go in the morning.
You can't go wrong with the everyday classic shoe rack. I was never a big fan of shoe racks because my shoes would always somehow fall in between the bars (maybe it's just me/user error haha) but I love how this one doesn't have any space between the bars!
How to Maximize Hanging Space in a Small Closet
I complained about not having enough hanging space in my closet. But little did I know all I had to do was add an extra rod! Who knew haha.
Anyways, if you need more hanging space in your small closet, adding an extra rod will do just the trick!
This hanging closet organizer will work great if you are running out hanging space and have some items that you want in your closets and can be folded!
This is one of the coolest hangers I've ever seen! You can hang all of your pants on one hook rather than each of them being on a separate hanger!
Actually, this might be the coolest hanger I've seen haha! You can use this hanger two different ways.
The first way to use this hanger is by using it to keep certain pieces of clothing together in one section, which is helpful for organizational purposes.
The second way you can use this hanger is by simply unhooking one of the hooks and letting the hanger drop vertically for space saving purposes.
It's win-win either way!
Cheap small closet organization solutions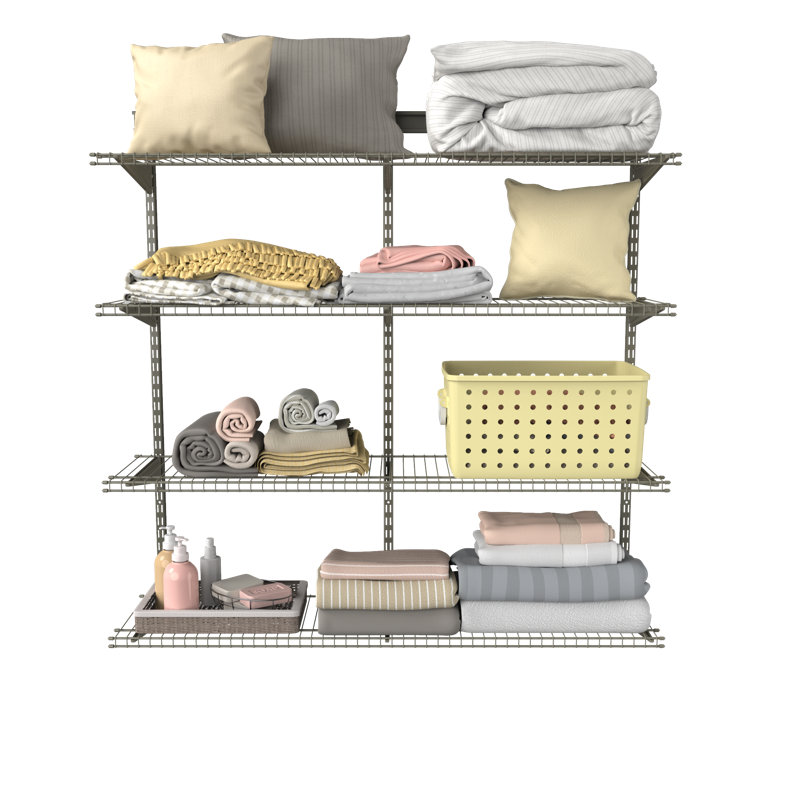 If you have a free wall in your closet and are in need of some extra shelving space, try this shelving unit with super easy installation!
This custom closet organization unit is a perfect small walk-in and reach-in closets to help you add some life to your closet space.
This closet organization unit fits into any closet space and shape and can be customized to fit your exact needs.
I love that this closet tower organizer has extra storage space that you can use for shoes, storage bins, and for folding!
These easy to install closet drawers are perfect to add for additional folding storage in your small walk in closet.
How to Make a Small Walk-in Closet Look Bigger
17. Make use of all available space
If you really want to make your small walk in closet look bigger, you have to get creative with the way you use your space.
Pretty much all of the small closet organization ideas we have talked about allow you to do just that!
The last thing you want to have in a small closet in clutter. Clutter makes your space look smaller that it really is and hides the endless organizational opportunities that your space has!
Investing in organizational solutions for your small closet is key to getting the most out of your space!
18. Get everything off the floor
Having one or two organizers on your floor is no big deal. I'm more so talking about just throwing things on your closet floor.
When I was younger, I had a really bad habit of just throwing my shoes on my closet floor without a care in the world. Which ultimately led to me wasting space that could be used more things.
Try keep things off of the floor as much as you can.
Sometimes our closets appear to be smaller than they really are simply because we can't see anything!
You can use these lights under your shelves to add some light to your closet to really highlight and amplify your space.
Small Closet Organization Essentials
Me and small items don't tend to get along to well. I love that this organizer is specifically for underwear, will keep everything in one place, and will fit right into your drawer!
If you like the storage bin idea but don't like the fact that you can't really see anything in there without going through them, this organizer just solved that problem! Its shape allows you to see everything inside for a quick and easy grab and go.
I like my seasonal clothes to be out of sight and out of mind without taking up to much space in my closet.
These storage bags protect your seasonal clothes, can fit right on top of your closet shelves, and you can even see what's inside without having to dig through it.
All of my purse lovers are going to need this! I have a bad habit of just throwing the purses I'm not using around carelessly. This purse organizer is essential because it keeps everything in one place and will right over your door for easy access.
Ready to organize other spaces in your home?